Click here
if you would rather order by mail with your check!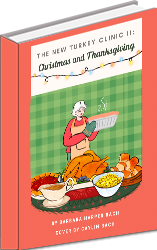 The New Turkey Clinic II
Only $25.00 + $4.99 shipping
A how-to on getting a big turkey holiday meal on the table for Christmas and Thanksgiving by starting early!
$25.00 + $4.99 shipping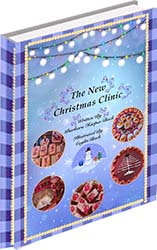 The New Christmas Clinic
70 pages – a remake of the old Christmas Clinic, plus lots of added festive recipes.
SOLD OUT ONLINE
To purchase, please visit
My Favorite Things
2721 Old Rosebud Road
Lexington, KY 40509
Phone: (859) 264-0923


Cookies!
47 pages of cookie recipes! Rolled, dropped, spritz, nonbake, nondairy and more! Color photos of most and illustrated by my granddaughter Caylin Reid Bach!
$14.00 + $4.99 shipping

From My Daughter's Kitchen
45 pages of delicious and easy recipes that are calorie conscious, light and all tweaked by my daughter, Rebecca Bach Cain, a former University of Kentucky Varsity Cheerleader. She is still calculating and health conscious about her food.
$16.00 + $5.00 shipping.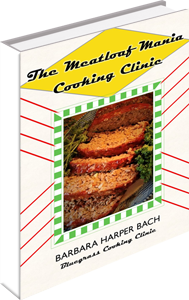 Meatloaf Mania Cooking Clinic
The meatloaf cookbook is a lifetime collection of my best meatloaf recipes and some tweaked to become meatloaf burgers, stove top meatloaf, meatloaf sliders and more, including recipes from two local top chefs in the bluegrass and other friends. A Kentucky Book Fair cookbook 2018
46 pages. $14 (plus $5.00 Shipping)

The Southern Wedding Cooking Clinic
Around 250 pages of recipes and menus for engagement parties, wedding showers, bridesmaids luncheons, sweetheart luncheons, rehearsal dinner and many different themed wedding receptions. The only cookbook of this kind on the market to our knowledge. Color photos of my daughter's 2016 wedding and photos of many recipes in center fold. Large print. $32.00 (plus $5.00 Shipping)

The Irish American Cookery Clinic SOLD OUT
Authentic Irish recipes from southern Ireland and my
own Irish family recipes with photos and 167 pages.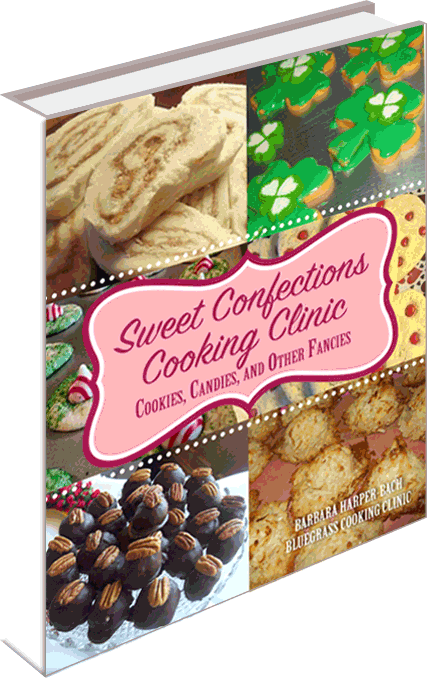 The Sweet Confections Cooking Clinic:
Cookies, Candy and Other Fancies SOLD OUT.
189 pages, photos, accepted in this year's Kentucky Book Fair as an outstanding cookbook of 2015.


"From My Mother's Kitchen" SOLD OUT.
Reprinted from 2008 with photographs and some new recipes added. This book is a nostalgic collection of Barbara's mother and grandmother's best recipes including recipes from some of her friends' moms as a bonus.


Blue Ribbon Breakfasts
$20.00 (plus $5.00 shipping)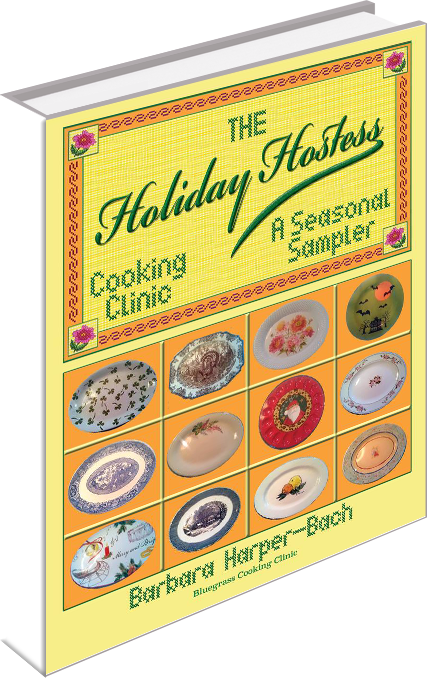 The Holiday Sampler: A Seasonal Sampler Cooking Clinic
SOLD OUT.


"Butler's Doggie Dish of the Day Cooking Clinic"
SOLD OUT.

70 pages of home made main dishes and treats that don't contain the preservatives and chemicals of commercial dog food, plus lots of photographs of the recipes. A must for the holidays for the dog owners on your Christmas list.


The Derby Party Cooking Clinic SOLD OUT but available on Amazon.
Kindle
Click here for "The Derby Party Cooking Clinic" on Kindle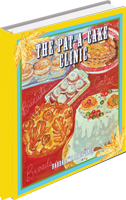 The Pat-A-Cake Clinic SOLD OUT.


The Pure Kentucky Pie Clinic
SOLD OUT but available on Amazon


"Thanking The Ping"
The Canning Clinic Cookbook
SOLD OUT


The Christmas Clinic Cookbook
SOLD OUT


The New Turkey Clinic
SOLD OUT .

Save
Save