Turn phone sideways to see all of the books on this page.
The New Christmas Clinic cookbook
Only $25


SOLD OUT ONLINE




Please pick up your copy at


My Favorite Things
2721 Old Rosebud Road
Lexington, KY 40509
Phone: (859) 264-0923


 

The Irish-American
Cookery Clinic
SOLD OUT

From My
Daughter's Kitchen
The Southern Wedding
Cooking Clinic
The Meatloaf Mania
Cooking Clinic
Sweet Confections
Cooking Clinic
SOLD OUT
From My Mother's
Kitchen
Cooking Clinic
SOLD OUT
The Holiday Hostess
Cooking Clinic
SOLD OUT
Butler's Doggie Dish
of the Day
Cooking Clinic
SOLD OUT
Thanking
the Ping
Cooking Clinic
SOLD OUT
The New
Turkey Clinic

The Pure Kentucky
Pie Cooking Clinic
Available on
Amazon
SOLD OUT here
The Pat-A-Cake
Clinic
SOLD OUT
The Derby Party
Cooking Clinic
Available on
Amazon
SOLD OUT here
The Christmas
Clinic Cookbook
SOLD OUT
Blue Ribbon
Breakfasts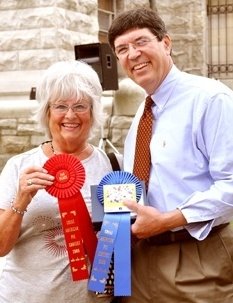 Barbara Harper-Bach is a well known, blue-ribbon cook and artist who has recently published thirteen cookbooks.
Cookies! cookbook. 47 pages of cookie recipes, rolled, dropped, spritz, nonbake, nondairy and more. Color photos of most and illustrated by my granddaughter Caylin Reid Bach.  $14.00 + $4.99 shipping.
From My Daughter's Kitchen. 45 pages of delicious and easy recipes that are calorie conscious, light and all tweaked by my daughter, Rebecca Bach Cain, a former University of Kentucky Varsity Cheerleader during the Sutton era. Healthy but delicious! She is still calculating and health conscious about her food. $16.00 + $5.00 shipping.

Meatloaf Mania Cooking Clinic.  The meatloaf cookbook is a lifetime collection of my best meatloaf recipes and some tweaked to become meatloaf burgers, stove top meatloaf, meatloaf sliders and more, including recipes from two local top chefs in the bluegrass and other friends. A Kentucky Book Fair cookbook 2018. Only $14.00!
The Southern Wedding Cooking Clinic, Around 250 pages of recipes and menus for engagement parties, wedding showers, bridesmaids luncheons, sweetheart luncheons, rehearsal dinner and many different themed wedding receptions. The only cookbook of this kind on the market to our knowledge. Color photos of my daughter's 2016 wedding and photos of many recipes in center fold. Large print. $32.00.

The Irish American Cookery Clinic, 167 pages, SOLD OUT.
The Sweet Confections Cooking Clinic, 189 pages, photos, accepted in the Kentucky Book Fair as an outstanding cookbook of 2015. SOLD OUT.
From My Mother's Kitchen has been reprinted from the 2008 edition with photographs and some new recipes added, this book is a nostalgic collection of Barbara's mother and grandmother's best recipes including recipes from some of her friend's moms as a bonus. SOLD OUT.

"The Holiday Hostess Cooking Clinic, A Seasonal Sampler", 300 pages of monthly menus, special occasions and recipes galore with more photographs and illustrations than ever before. SOLD OUT.
"Butler's Doggie Dish of the Day Cooking Clinic", 70 pages of home made main dishes and treats that don't contain the preservatives and chemicals of commercial dog food, plus lots of photographs of the recipes.  A must for the holidays for the dog owners on your Christmas list.  SOLD OUT.
"The Derby Party Cooking Clinic" cookbook, 120 pages.  The book is a stellar collection of unique Derby recipes from award winning horsewoman, artist and cook, Barbara Harper-Bach and area Derby Host/Hostesses to make your Derby Party as exciting as the Kentucky Derby itself.  Ideas for decorating and games are included with color photographs throughout.  The horsey set will be delighted with sections like "The Watering Trough" (Beverages) and "Sweetfeed" (Desserts).  A must for this year's Derby celebration and for years to come. Barbara's oil on canvas print of her 2013 Kentucky Derby Poster entry adorns the cover and she has done horsey illustrations for each section. SOLD OUT but available on Amazon.
"The Pat-A-Cake Clinic" cookbook is 200 pages of mouth watering  recipes for biscuits, breads, coffee cakes, pancakes, yeast rolls, and heirloom cakes,  including Angelica Guica's (Teodora's) Artisan bread.  Chef Candido's Tutti Fruitti Cake of Celebrity Cruise Lines, and Anita Madden's wonderful cook  Virginia Shelby 's Cheese Bread and as a bonus many great recipes for accompaniments and side dishes. SOLD OUT.
"The Pure Kentucky Pie Clinic" cookbook is 145 pages of the best collection of pie recipes in the world, many being award winners. Won third place in the Georgetown pie contest with my apple butter pie in Feb. 2012. SOLD OUT but available on Amazon.
"Thanking The Ping" The Canning Clinic Cookbook teaches the reader the lost art of canning and preserving and includes recipes for the condiments as well as recipes that use home canned goods. As usual, Barbara includes a good read in the text of this 140+ page cookbook, with stories about family and friends in connection with almost every recipe. Barbara is busy preparing for "IGA Meals in Minutes (two television shows based on recipes from the new book. TV station WBKO in Bowling Green, KY will be airing those shows.
Blue Ribbon Breakfasts is a collection of the recipes that Barbara's Blue Ribbon Breakfast committee used when they cooked for a Men's Prayer Breakfast at Anchor Baptist Church in Lexington, Ky. The women prepared breakfast once a month for almost year for 32 hungry church men and when the leader of the group died, the breakfasts were discontinued. The book is dedicated to the leader, Jack Adcock and proceeds from the book will be donated to the church in his name. This book contains amazing recipes for wonderful country breakfasts and brunches with lots of eggy dishes suitable for spring and Easter feasting. Blue Ribbon Breakfasts is $20.00 plus $5.00 shipping.
The first,
The New Turkey Clinic
is a "how to" on conquering Thanksgiving by staying ahead of the game for the new Thanksgiving cook.  It is a small, ten page booklet that is packed with information.  Included in this book are her two winning pie recipes from last year's Great American Pie Contest in downtown Lexington's Fourth of July festivities in which she won first and second place out of fifty five pies.
SOLD OUT.
The next book
"The Christmas Clinic Cookbook"
, $22.00, contains every recipe you will need for Christmas and is divided into two parts: the sideboard which contains recipes for all the gift giving and family that can be made ahead beginning the day after Thanksgiving with the traditional fruitcake that needs to be basted every day until Christmas with a good Liquor, and the Christmas Table that includes recipes and instructions for elegant holiday feasting from Christmas luncheons to Christmas day dinner. Her second passion as an artist enables her to illustrate her own books.
They are paperback books that she self publishes. This Clinic promotes her cookbooks that are instructional and a collection of Irish family heirloom recipes. She is an award winning cook (first and second in Lexington's Great American Pie Contest 2009) and an award winning artist who does the artwork, typing and publishing of these books.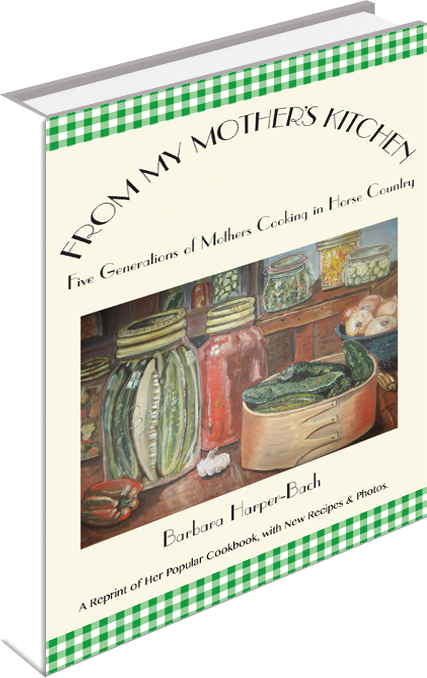 "If you like to cook and eat and want the very best, try some of the recipes from these cookbooks. They are the best of the best. I am 83 years young and know what good cooking is. The proof is in the pudding y'all."
-Barbara Harper-Bach
Click here for an order form to mail with your check or money order.
Save